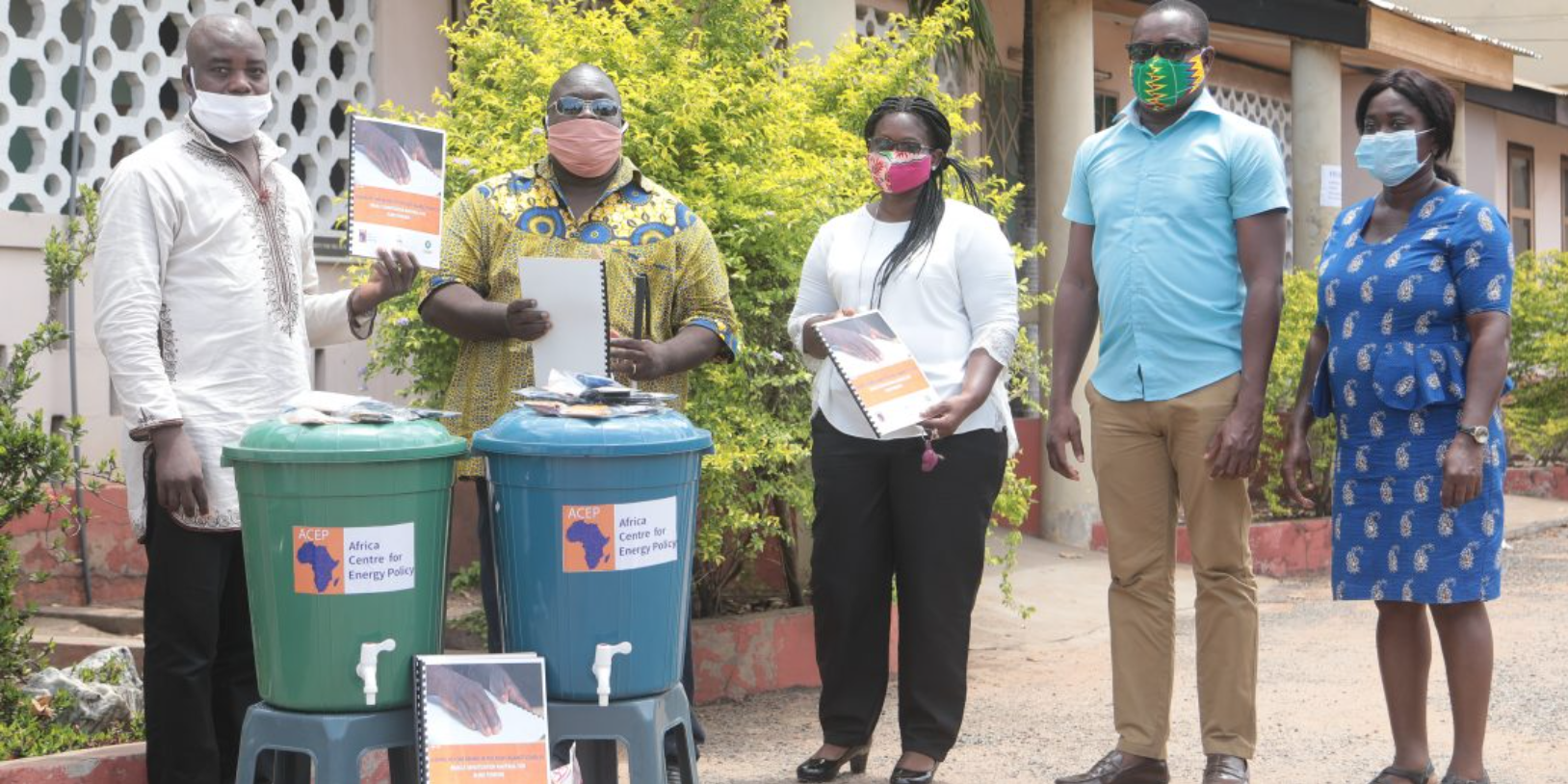 ACEP Supports Ghana Blind Union In COVID-19 Fight
The Africa Centre for Energy Policy (ACEP) has donated COVID-19 educational and sensitisation materials in Braille to the Ghana Blind Union (GBU), for use by persons with blindness.
The items donated are worth over GH¢24,000 and included sensitisation braille materials to be distributed to all regions, Veronica buckets, nose-masks and other sanitary materials.
According to the Head of Programmes-ACEP, Alhassan Iddrisu, the items donated are to promote a comprehensive approach in addressing the pandemic, as the blind have been left out with no targetted sensitisation materials even though the corona virus does not discriminate against colour, race, disability or physically challenge.
"Any approach to address COVID-19 must not be discriminatory but comprehensive; however, we have noticed this gap – that of all the sensitisation materials and education programmes designed for the public, there is none on braille that can be a reference material for persons who are blind. So, we collaborated with GBU to produce braille sensitisation material for the blind.
"The braille materials are to educate persons with blindness on the causes, prevention and government interventions or incentives, and how to demand their portion if they are not getting it," he said.
He further indicated that the braille also contains an analysis of impacts from COVID-19 and its effect on the economy of Ghana, because the budget and other economic projections of the country have been affected significantly – leaving behind a budget deficit.
Executive Director-GBU, Dr. Peter Obeng-Asamoa, expressed his profound gratitude to ACEP on behalf of persons with blindness, indicating that the items donated by ACEP are in line with the United Nations (UN) convention on rights of persons living with disability as well as the SDGs which talk about equal access to information.
"We need to have a document for reference just like everybody does, and now this document provides that – which we will distribute to the various regions to ensure every blind person who needs it can access it.
"In fact, in this COVID-19 era the person with disability, especially the blind person, finds themselves in an exceptionally difficult situation because they rely on people to help them; and now, because of social distancing, most of them are not getting aid to move around," he stressed.
In addition, he expressed that the entrepreneurial blind community has been affected adversely; as they are not getting the assistance they need to produce or go to purchase the various materials needed to stay in business.
Dr. Obeng-Asamoa also called on government to consider providing technology for children with blindness; so that going forward, in times of crisis they will not be left out in accessing information when other means fail.
Source: Thebftonline.com