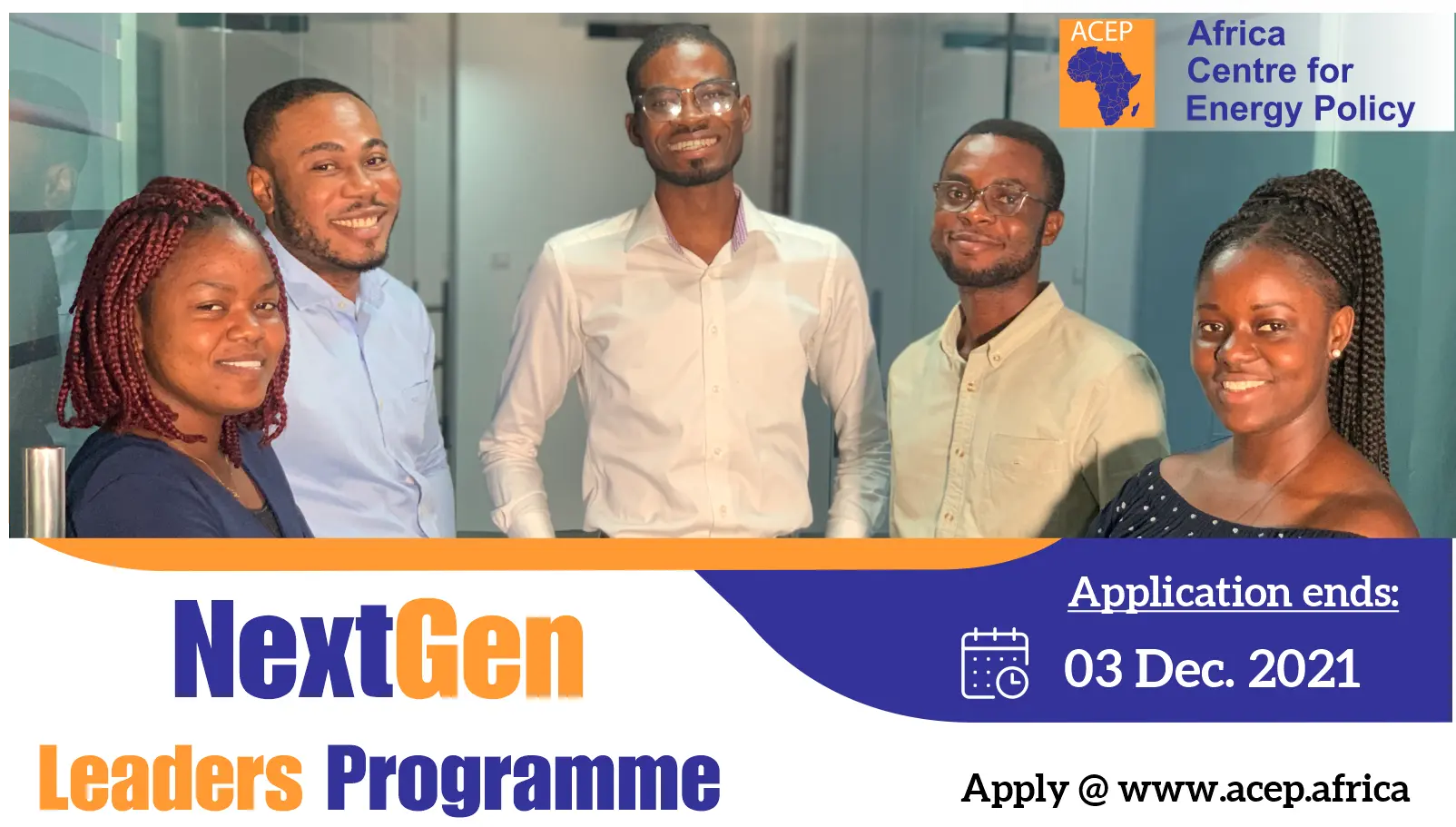 NextGen Resource Governance Leaders Programme - Cohort 2
The Africa Centre for Energy Policy (ACEP) was established to contribute to the development of alternative and innovative policy interventions through high-quality research, analysis, and advocacy in Africa's energy and extractives sector. ACEP works on improving resource governance by promoting beneficial ownership disclosures, exposing corruption and tax evasion, curbing illicit financial flows (IFFs) in the extractive sector, capacity building of state and non-state institutions, equitable distribution of resources and efficient delivery of development interventions. The work of the organisation, therefore, spans the entire spectrum of resource governance, from the issues around the extraction of the resources, to how the outcome of the resources impacts all citizens, particularly women, youth, and Persons with Disabilities (PWDs).
ACEP prioritizes its efforts around the following energy and resource governance areas:
The Next Generation Resource Governance Leaders Programme
The Next Generation Resource Governance Leaders Programme is a six-month internship that intends to balance a dose of theory with real-world application and equip participants with the requisite multi-disciplinary intellectual development, practical skills, and research abilities to think in more innovative ways to solve complex governance challenges. The Programme is also a strategy to build a pipeline of young pan-African leaders to provide a sustainable path for good governance.
The core of our ambition is to train and nurture young people in an enabling working environment through a structured capacity development process. These will include training on transformational leadership development, professional and career development, and digital communication and technological skills. Essentially, beyond the technical training in resource governance, interns will be exposed to the tools and guidance needed to set and achieve realistic personal and professional goals, coupled with well-rounded and ethical leadership training.
ACEP is calling for applications for the Second Cohort of its Next Generation Resource Governance Leaders Programme. The duration for the internship will be from January 2022 to June 2022.
Responsibilities of NextGen Leaders
The NextGen Leaders will deliver timely and quality evidence-based policy analysis, training, and advocacy through strong collaboration, to ensure that ACEP remains a thought-leader in Africa's energy and extractive policy space, by:
Contributing to writing research reports and policy briefs on the energy and extractives sector of Africa.
Supporting media engagement activities on ACEP's output and its position on energy and extractive sector issues in Africa.
Contributing to the planning, implementation, and evaluation of annual programmes
Supporting organizational development activities.
Supporting in resource mobilization efforts, including grants and proposal writing.
Contributing to programme management, monitoring and evaluation (M&E) activities.
Eligibility Criteria
Applicant (s) must be a young Ghanaian who demonstrates a passion for ensuring that the vast extractive resources in Africa translates into sustainable and inclusive development. Among others, the candidate (s) must possess:
Relevant academic qualifications, preferably in any or a combination of economics (including energy), engineering (petroleum/electrical), oil and gas management, public policy, law, political economy, development studies, development finance, project management, communications, statistics, and mathematics etc.
Good writing skills with clarity and logical flow of thoughts.
Adequate knowledge of relevant qualitative and quantitative analytical tools (R, Stata, Eviews, NVivo, Atlas.ti etc.).
Ability to multitask, prioritize, and meet multiple deadlines.
Good interpersonal skills and team spirit.
The ability to think creatively and take the initiative in solving problems.
A good sense of ownership and responsibility for his/her decisions and actions.
A strong sense of leadership.
What ACEP offers
The Centre will provide:
Support for growth and development through:
Opportunities for training and development.
Coaching, mentorship, and peer support.
Creating room for creativity and innovation.
A generous stipend and free lunch for the duration of the internship.
Interested young persons may tender in their applications online, on or before Friday, 3rd December 2021.
There would be an entry test and an interview as part of the recruitment process. Only shortlisted applicants would be contacted.