A Review Of Barriers And Opportunities For Renewable Energy Adoption By SMEs In Ghana
June 17, 2021
Posted by:

acepghana

Category:

News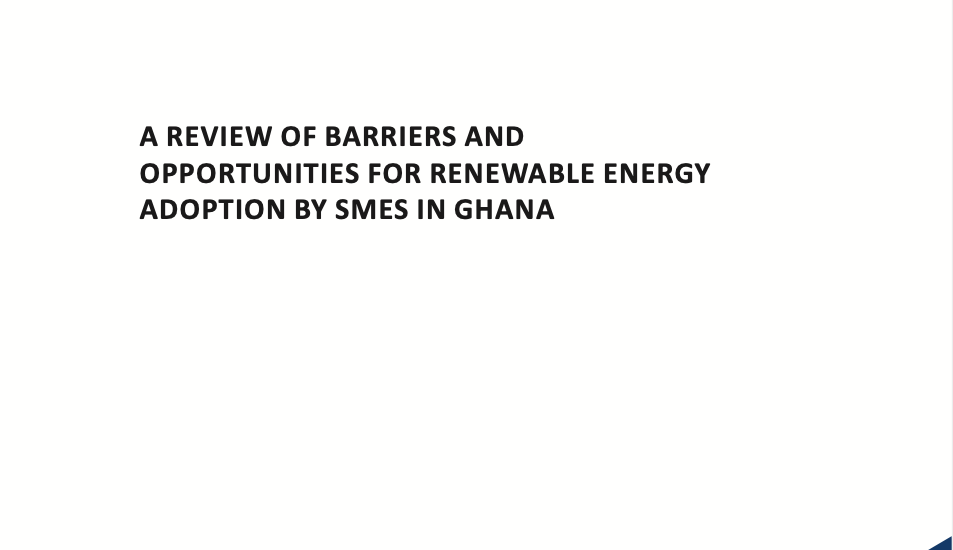 The Renewable Energy revolution is becoming more important in view of its impact on the environment and its economic benefits to companies who adopt same. However, its adoption, particularly by Small and Medium Enterprises (SMEs) in Ghana is low. In this new Report, the Africa Centre for Energy Policy (ACEP) highlights the results of a survey aimed at examining the opportunities, motivating factors and challenges to renewable energy adoption among SMEs.
Background
Electricity is an essential aspect of the operations of Small and Medium-Scale Enterprises (SMEs) in various sectors of the economy including agriculture, industry and services. Access to a reliable and affordable supply of power is essential for their operations to remain competitive. SMEs in Ghana rely primarily on conventional power from the national grid. In recent times, conventional power supply in Ghana has been plagued by challenges, primarily erratic power supply and high end-user tariffs, which have adverse impacts on SMEs' productivity. End-user tariffs for SMEs are often higher than tariffs for residential consumers, resulting in increased production costs which reduces their profitability, hence, long-term resilience and sustainability.
To mitigate the impact of these power challenges, some SMEs turn to self-generating options such as fuel-powered generators. However, this option is associated with an increased cost of operation and its attendant negative environmental impacts. Better alternatives that mitigate the challenge of the unreliability of power supply and high cost of power are essential for SME productivity. Solar and other forms of renewable energy technologies have not only proven to be stable and economical in the long term, but also contribute to environmental sustainability.
Nonetheless, the rate of renewable energy adoption in Ghana among SMEs has been moderately low. As part of a broader objective of enhancing access to affordable renewable energy, this report highlights the results of a survey aimed at examining the opportunities, motivating factors and challenges to renewable energy adoption among SMEs. Participants in the survey were relevant stakeholders such as SMEs, suppliers of renewable energy technologies, government and regulatory institutions, and financial institutions.
Focus of Report
The report aims to increase awareness of the economic and environmental benefits of renewable energy adoption among Small and Medium Scale Enterprises, while, breaking down barriers to renewable energy adoption. The survey elicited the following results:
Beyond environmental sustainability, renewable energy adoption presents additional opportunities for SMEs including significant cost savings and an avenue to build a green business image.
Access to capital required for investment is the primary challenge that inhibits renewable energy adoption characterised by high initial costs and limited access to renewable energy technology financing.
The limited adoption of renewable energy technologies is shaped by knowledge gaps on renewable energy technologies, the economic and environmental benefits and available funding opportunities for green investments.
Renewable energy suppliers and service providers mainly face regulatory challenges including bureaucracies and high costs of licensing businesses and delays in implanting renewable energy policies such as net metering.
Recommendations
In line with the results of the survey, the following recommendations are made;

Energy Commission must streamline its processes to facilitate easy acquisition and renewal of licences for renewable energy technology suppliers.
Government and regulatory institutions must expedite their actions towards the implementation of net metering to encourage self-generation through the adoption of renewable energy technologies.
Government in collaboration with businesses and civil society actors must intensify education to create awareness on clean energy adoption, paying particular attention to the economic and environmental benefits.
Financial institutions must create more awareness on funding available for renewable energy investments accessible by SMEs.
There must be an intensified and broader dialogue and engagement among stakeholders to deepen the conversation on renewable energy adoption and the options available for financing.
Please download the full Report here: A Review Of Barriers And Opportunities For Renewable Energy Adoption By SMEs In Ghana