June 17, 2021
Posted by:

acepghana

Category:

News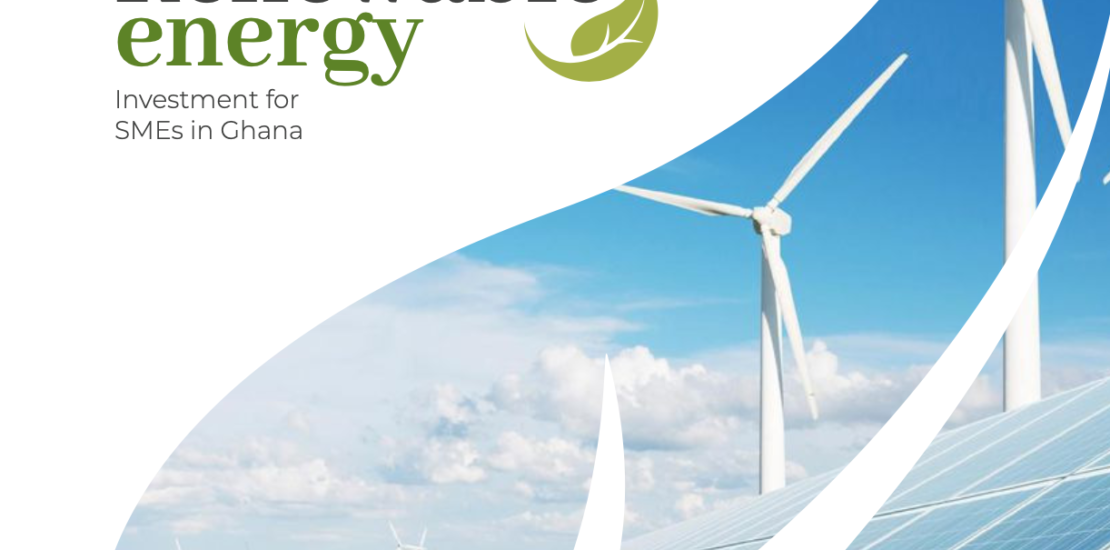 Reliable and affordable power is at the core of all business operations as far as reducing costs and maintaining profitability is concerned.  However, with the new wave of the green revolution, there has arisen the need for a re-look at ways of reducing operational costs associated with power as well as the need for businesses to be climate-conscious and environmentally friendly.
In its latest publication, the Africa Centre for Energy Policy (ACEP) provides relevant information to businesses, particularly small and medium-sized enterprises (SMEs) as well as the general public on the merits of adopting renewable energy, the means of sourcing the technology and options available for financing such investments.
We take a cursory look at the key areas of ACEP's Simplified Guide To Renewable Energy Investment For SMEs In Ghana.
Introduction
Most businesses depend on reliable and affordable power for their operations. The reducing costs associated with adopting renewable energy technologies and the opportunities it presents in terms of reliable power supply and cost savings are some business case incentives for investment. Despite the economic and environmental advantages of renewable energy, there is often a lack of readily available information on how to adopt these technologies in practice.
What is Renewable Energy..?
Renewable Energy (RE) is a form of energy from natural sources that are constantly replenished by nature and/or human activities. The major sources of renewable energy are hydropower, biomass, geothermal, wind and solar.
Renewable Energy Regulation In Ghana
The renewable energy sector in Ghana is regulated by the Renewable Energy Act 2011, (Act 832) which was amended in 2020. There are also several policies that indicate the government's focus and plans for the sector. These policies include the Ghana Renewable Energy Master Plan (2019); National Energy Policy (2020); Scaling-Up Renewable Energy Program in Ghana (SREP) (2015); Strategic National Energy Plan (2006-2020); and the Energy Sector Strategy and Development Plan. The Renewable Energy Act has a target of increasing renewable energy penetration by at least 10% of by 2020. However, this deadline has been extended to 2030.
Bui Power Authority (BPA) is the government's designated entity for Renewable Energy and clean energy development in Ghana  while the Energy Commission regulates the sector. The Energy Commission issues licenses for the importation, installation, operation, and maintenance of renewable energy technologies in Ghana. The Commission also issues licenses for embedded generation from renewable sources. While the Energy Commission regulates the technical issues of RE, the Public Utilities Regulatory Authority (PURC) handles the financial regulations, i.e. all issues about tariffs and financial agreements.
Why RE for SMEs..?
Two broad benefits drive the adoption of renewable energy: Economic & environmental benefits.
Economic benefits accrue from cost savings on power and credits for transferring surplus power to the grid.
The environmental benefit from adopting renewable energy comes from the contribution to environmental sustainability.
Incentives for Renewable Energy Investments
Available Regulatory Regime
The Renewable Energy Act 2011, (Act 832) as amended, provides for the establishment of a competitive procurement scheme and a net- metering scheme in respect of electricity generated from renewable sources. Net metering is a billing mechanism that credits solar energy system owners for the surplus power added to the grid.
Tax Exemptions
The government also provides tax exemptions on equipment and parts imported for renewable energy.
Net Metering Schemes
The development of a net metering code and renewable energy sub-codes for transmission and distribution systems.
Funding
A Renewable Energy Fund is yet to be established and managed by the Energy Commission for the promotion of renewable energy investments in Ghana.
Licensing
The development of a licensing manual for RE service providers and completion of draft guidelines for renewable energy purchase obligations remains a major incentive for investment in the sector.
Financing Options for Renewable Energy Investments
The main challenge identified with the adoption of renewable energy technology by small and medium scale enterprises (SMEs), is the high initial cost of investing in renewable energy technology such as solar, and its maintenance costs.
About 80 percent of the SMEs surveyed by the Africa Centre for Energy Policy (ACEP) identified high initial costs as being the foremost demotivating factor to their adoption of renewable energy. However, there are several options available for small businesses to surmount the initial cost hurdles for investing in renewable energy. These include supplier credit schemes, bank credits or loans.
Stanbic Bank has also developed sustainable finance solutions and services ranging from green and social bonds, sustainable project finance and loan market solutions to sustainable infrastructure funding, as well as broader strategic, sustainable advisory and support services.
Sourcing the RE system
The first step to investing in renewable energy is to speak to a renewable energy advisor who can assess a business's energy needs and recommend a suitable renewable energy technology. The AGI-Energy Service Centre currently provides such advisory services for the business community including SMEs in Ghana (available here: https:// esc.agighana.org/#services)
After understanding the business's energy needs and the type of renewable energy technology required, contact a renewable service provider for quotes. Review and verify their certifications, licenses, track record and reputation on the market. The Energy Commission licenses renewable energy service providers and maintains a list of registered 34 companies that install and maintain renewable energy products and services to households and businesses including SMEs in Ghana at: http://energycom.gov.gh/licensing/licensing-renewable-energy-sector/register-of-licenses. The AGI-Energy Service Centre also maintains a continuously updated list of renewable energy service providers.
Are there operation and maintenance (O&M) costs for RE technologies..?
Renewable energy systems require periodic maintenance to ensure efficiency, reduce costs of operation and improve availability of the systems. Failure to maintain renewable energy technologies may result in system failures which may warrant the removal of the entire system for replacement or repairs. Operation and maintenance costs for renewable energy technologies have reduced significantly and are substantially lower than periodic tariff payments under conventional energy technologies.
The warranty for most solar PVs is between 15 to 25 years which ordinarily covers total failure or leakages in the system but excludes any wear and tear over time.
In conclusion, it is recommended that SMEs perform checks and cleaning on such renewable energy technology per the manufacturing instructions and recommendations from experts/the service providers to ensure maximum output and lifespan of the equipment. Again, SMEs must engage the services of professional renewable energy operations and maintenance providers to ensure proper functioning and efficiency of the system. Based on the SME's preference, the company can outsource O&M services or internally recruit officers to be trained in the necessary skills.

Download the full guide here: A Simplified Guide To Renewable Energy Investment For SMEs In Ghana