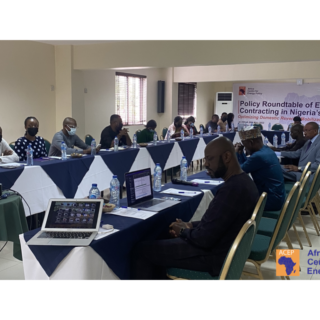 Policy Roundtable on Efficiency of Contracting in Nigeria's Mining Sector
ACEP paid a working visit to Nigeria and held a series of policy roundtables with key sector MDAs including the Mining Cadastre Office; Revenue Mobilisation, Allocation and Fiscal Commission (RMAFC); Nigeria Extractive Industries Transparency Initiative (NEITI), ASM Department of the Ministry of Mines and Steel Development; the Federal Inland Revenue Service; and Civil Society; as a first step towards mitigating the challenges and bridging gaps.
This was part of efforts to promote country-level action towards deepening the efficiency of contracting in the mining sector and aligning national mineral policies with existing regional frameworks to improve domestic revenue mobilization and beneficiation in Nigeria's mining sector. The initiative sought to advocate for government action to ensure the efficiency of mineral rights allocation and policy alignment to regional frameworks and partner the  Nigerian civil society organisations to monitor and advocate for the internalisation of existing regional frameworks such as the Africa Mining Vision (AMV) into national mineral policies and governance frameworks, including contracting.
ACEP noted a deep sense of political and institutional commitment to create a conducive environment to optimize mineral resource exploitation and benefit accruals to the nation. We have taken up the role of enhancing stakeholder collaboration and coordinating efforts, including cross border efforts to position the mining sector to support the diversification agenda. The future looks exciting.