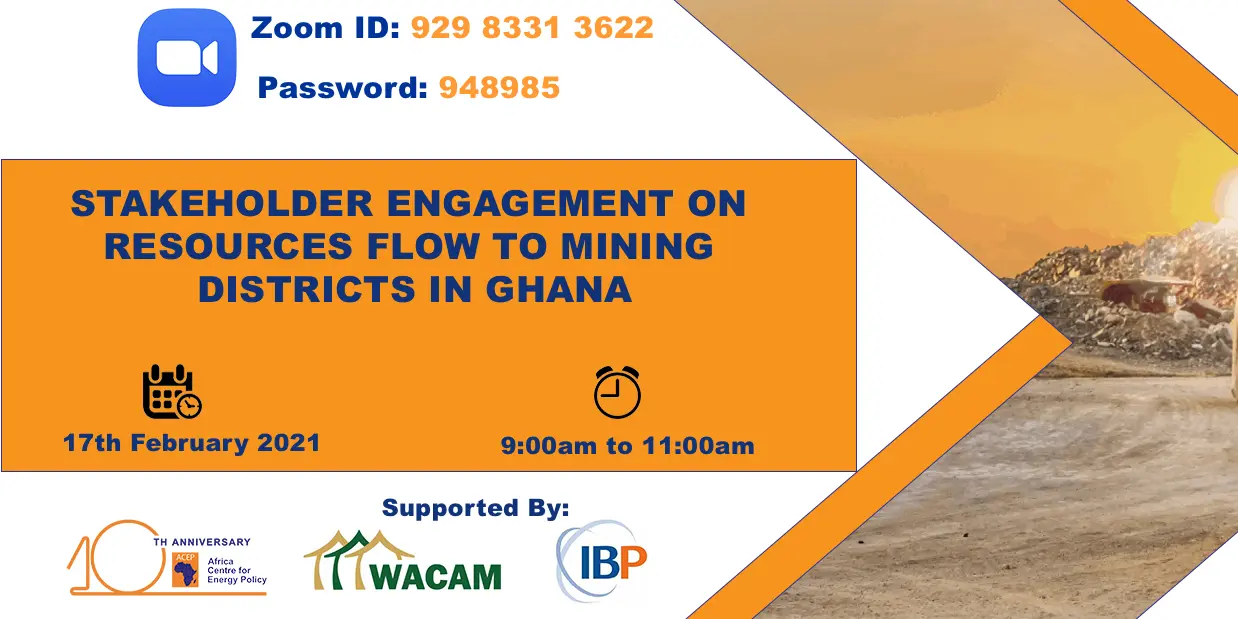 Stakeholder Engagement On Resources Flow To Mining Districts In Ghana
The need to strengthen decentralisation is a constitutional aspiration of Ghana. The Constitution, 1992 requires that deliberate efforts are made to "enhance the capacity of local government authorities to plan, initiate, co-ordinate; manage and execute policies in respect of all matters affecting the people within their areas, to ultimately achieve the localisation of those activities" (Article 240 (2b) of the Constitution of Ghana, 1992). Decentralisation has, therefore, become an essential component of the country's governance system. The Constitution requires that these local governments (Metropolitan, Municipal and District Assemblies (MMDA)) are adequately and reliably equipped with the necessary resources. Hence, in partial fulfilment of local governments' funding requirement, the Constitution establishes the District Assemblies Common Fund (DACF) and prescribes a minimum allocation of five percent of total government revenue to the Fund annually.
Beyond the constitutional provision, MMDAs are permitted to generate revenue from other sources under the Local Governance Act, 2016 (Act 936). The Act specifies three main sources of revenue for MMDAs; Decentralised Transfers, Donations and Grants, and Internally Generated Funds (IGF). Over the years, DACF has become an important source of revenue for MMDAs since local taxes in most cases are low due to low economic activity and weak revenue collection efforts. Mining communities have the advantage of receiving additional revenue for development, and to address the socioeconomic impacts of mining operations through the Minerals Development Fund. This provision was codified into law through the Minerals Development Fund Act (Act 912) in 2016.
Since the institution of MDF and its subsequent passage into law, the Fund has been a significant source of income for MMDAs in mining communities. Between 2010 and 2019, MDF constituted about 44 percent of the total revenue of Prestea Huni-Valley Municipality. Generally, MMDAs have utilised these funds for various development projects that cut across multiple sectors such as health, education, sanitation, and roads. Therefore, the importance of MDF as a funding source cannot be over-emphasised.
The utilisation of DACF and MDF to support development activities in districts are supposed to be cash revenues within the control of MMDAs, to empower them to finance context-driven developmental needs within the localities. Therefore, DACF and MDF are critical revenue sources for mining districts. However, disbursement challenges of these funds from the Central Government have been compounding over the years. Usually, these funds are either disbursed late or partially paid. Also, new laws and policies continue to affect the volume of disbursements to these funds.
Mining communities generally face socioeconomic challenges that require active, stable and efficient revenue sources to address. These socioeconomic challenges include pressure on infrastructure, employment and environment and social vices that need to be mitigated with financing. The delays and partial disbursement of funds deepen the pressure and affect the delivery of planned development programs. Therefore, the need to assess the impacts of such policies on the finances of MMDAs is opportune.
The stakeholder engagement, which is virtual, will have participants drawn from relevant government institutions and mining communities. The discussions will deepen the knowledge on the funding challenges facing MMDA's in implementing development plans and provide policy options to address these challenges.